Looking for the best hardware wallet for cryptocurrency in 2018?
It's more important than ever to protect your cryptocurrency – because we've seen some of the world's biggest exchanges hacked over and over again.
Plus, with the risk of hackers, bugs and no overarching cryptocurrency regulator, it's crucial that you take every measure possible to keep your investments safe and secure.
So that's why in this guide, I'll reveal my personal pick for the best hardware wallet for cryptocurrency in 2018.
By the way, if you want tips on how to invest in cryptocurrency, check out my ultimate guide to trading cryptocurrency here.
1. What Is A Hardware Wallet?
A hardware wallet is just a way of storing your cryptocurrency offline.
You can simply buy your cryptocurrency from an exchange like Binance or Coinbase, then transfer it across to your hardware wallet.
Think of a hardware wallet like a USB stick, with security features designed to keep your cryptocurrency safe and protected from hackers.
With pin codes, security seeds (a 24 word backup password created in case you lose your hardware wallet) and offline storage, it's a lot safer than leaving your cryptocurrency online.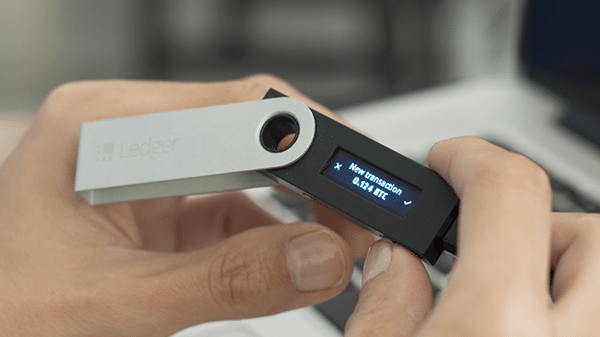 2. Where's The Best Place To Buy A Hardware Wallet?
Personally, I'd recommend buying your hardware wallet from Amazon because they have listings from approved, official retailers of hardware wallets. Plus you can check their reviews on there too.
The last thing you want is someone to tamper with your cryptocurrency wallet before you receive it! So buying from Amazon's top-rated sellers gives you complete peace of mind that your hardwallet is safe from security risks.
3. My Top 3 Picks For The Best Hardware Wallets.
[amazon box="B00PCMSJQS,B01J66NF46,B0143M2A5S" template="list"]
Click the links above to find each hardware wallet on Amazon. I'll discuss the pros and cons of each below.
4. Do You Need A Hardware Wallet?
If you're serious about investing in cryptocurrency, a hardware wallet is crucial…but there's still some disadvantages.
Here's some of the top pros and cons…
5. Advantages Of A Hardware Wallet.
check
check
check
check
check
6. Disadvantages Of A Hardware Wallet.
7. The Best Hardware Wallet For Cryptocurrency In 2018.
Below I've listed 3 of the best hardware wallets for cryptocurrency in 2018 – with links on where to buy them and their pros/cons.
Let's start with my personal pick for the best hardware wallet for cryptocurrency.
1. Trezor.
[amazon box="B00PCMSJQS" template="vertical"]
In my opinion, the Trezor Wallet is the best hardware wallet for cryptocurrency in 2018. It's probably the most well known wallet for cold storage and has tons of reviews on Amazon…
At the size of a USB, it's portable, water resistant and the Trezor comes with an 'anti tamper seal' so that you can easily see if the device is clean. It's not been made with the best materials and that could be improved, but it's certainly reliable in terms of security and encryption.
Advantages Of Trezor.
check
check
check
check
check
check
Disadvantages Of Trezor.
2. Ledger Nano S
[amazon box="B01J66NF46″ template="vertical"]
The Ledger Nano S looks just like a kind of large USB stick – which is a nice touch because it's a subtle design.
What makes the Leger Nano S completely different is that it comes with a screen. The screen adds an extra layer of protection to keep your hardware wallet safe and secure, as you'll discover below.
You see, when this hardware wallet first arrives, you might wonder why there's no 'tamper seal'. But don't be alarmed…
Instead of a seal (which could be easily imitated if someone's sophisticated enough to intercept a hardware wallet in the post) the Ledger uses a cryptography technique called 'attestation' – via it's screen.
Without getting too deep into the process, attestation basically affirms that the device has not been tampered with by verifying its signature.
If you want to learn more about attestation, check out this blog.
Advantages Of The Ledger Nano S.
check
check
check
check
check
Disadvantages Of The Ledger Nano S.
3. KeepKey
[amazon box="B0143M2A5S" template="vertical"]
When you first get your KeepKey, it comes with a tamper proof sticker so that you can see it's brand new. You'll also get a card to write down your security seed and it comes with a limited guarantee booklet and a sleeve to store your KeepKey.The KeepKey's build quality is probably the best I've seen out of all the hardware wallets.…And whilst the size is similar, when you compare this to a Trezor it has a much more sturdier and robust feel. That's definitely something you want if you're travelling with your hardware wallet often.Once you hook your KeepKey to your laptop, it's incredibly simple to setup. So if you're new to hardware wallets, the KeepKey is perfect for beginners.
Advantages Of KeepKey.
check
check
check
check
check
Disadvantages Of KeepKey.
check
check
check
check
check
8. How To Keep Your Hardware Wallet Safe & Secure.
Now you know the best hardware wallet for cryptocurrency, you also need to understand how to keep it secure.You see, when it comes to owning a hardware wallet for cryptocurrency and storing your 24 word security seed, there's some 'rookie mistakes' you need to be aware of.Here's how to avoid them:
8.1. Take Note Of Your Security Seed ASAP.
As soon as you get access to your security seed, make a note of it as soon as possible. The longer you wait, the more risk you have of losing it.
8.2. Don't Leave Your Security Seed Online.
If your security seed is posted anywhere online, you're still leaving yourself at risk to hacking.
So don't make the mistake of posting your security seed in a spreadsheet, on your Everest notes or even in a password protected spreadsheet.
Instead, write it offline and keep a few copies.
8.3 Store Your Security Seed In A Safe Place.
There's a few ways to keep your security seed safe and protected:
It goes without saying but if you're going to leave it with a relative or friend, make sure you can trust them.
Store a written copy of your security seed in a bank deposit box.
Alternatively, leave it in a wall/ground safe if you have one.
Use a password protected offline computer to store your security seed.
Additional Resources:
1. HTC will preload a Bitcoin Cash wallet on its blockchain phone